Silver and Blue Magnetic Necklace and Earring Set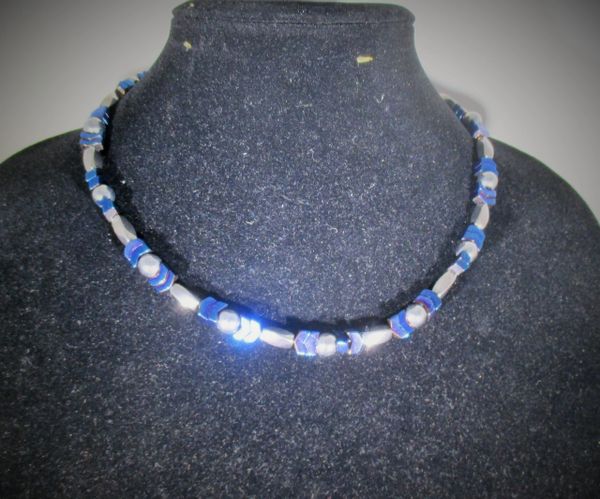 Silver and Blue Magnetic Necklace and Earring Set
Silver and Blue Magnetic Necklace and Earring Set
The necklace is created with electro-plated silver rice beads and blue chevron magnets plus a strong N35 magnetic clasp. It measures 18 1/2 inches from clasp end to clasp end. The earrings match the necklace and measure 1". Magnetic necklaces are worn by many athletes to maintain flexibility in the neck and shoulders.
There are many benefits of Magnetic Therapy which is now recognized by the FDA. Magnetic Therapy provides drug-free pain relief for many ailments including arthritis.

Do not use magnetic bracelets if you are currently pregnant, using a pacemaker or insulin pump. If you have any kind of metal implants, magnetic bracelets should not be used as they can interfere with metal implants. Also keep them at least 6 inches away from objects like computers, credit cards, and anything that can be demagnetized. This might result in the items not working properly.

Reviews