Minion Inspired Cuddle Sack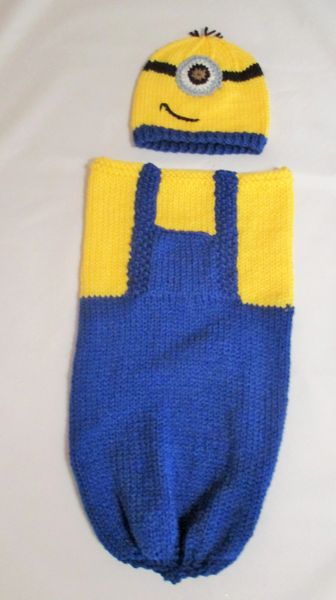 Minion Inspired Cuddle Sack
This Minion inspired Cocoon (Bunting) is perfect for the new baby. This cocoon fits from newborn to approximately 6 months of age. Snuggling your baby gives the baby the security and comfort of being in the womb while keeping its hand and feet warm. The cocoon is perfect for breast feeding or simply cuddling or snuggling your baby.
The cocoon is hand knitted not machine knit or loom knitted. It is hand knitted by an experienced knitter with many experiences and awards. It is knitted with the upmost care and attention to detail. Because this is knitted(not crocheted) it will stretch to fit the baby for a longer period of time.
This set includes one cocoon and an infant size hat of your choice (one eye or two eyes). Additional hat sizes can from infant to adult can be purchased on this web site.
This is made in a smoke free, pet free environment.
Reviews