Headband and Fingerless Gloves with Pocket Set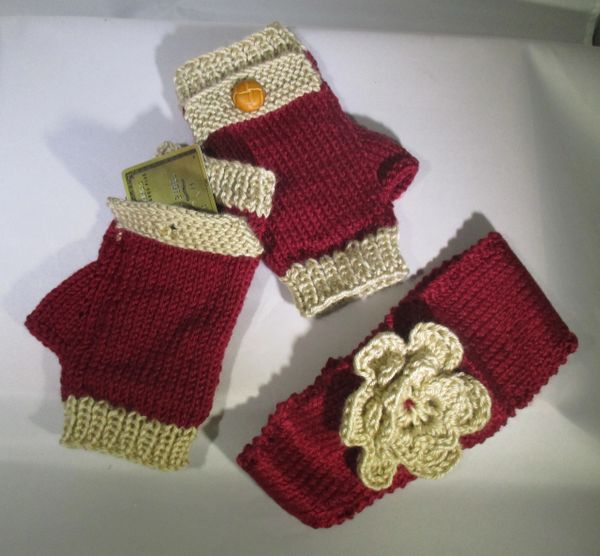 Headband and Fingerless Gloves with Pocket Set
Fingerless Gloves with matching Headband
This hand-knitted set is made of 100% acrylic yarn which makes it machine washable and dryable at low temperatures. The gloves feature a buttoned pocket which you can carry, keys, credit cards, money, or other items securely when jogging, or going to that special event, perfect for "cold offices".
I have several colors that are ready to ship. However, they can be made in any color of your choosing. While ready to ship orders go out in 1-3 Business Days, custom orders will ship in 10 days.
While, as mentioned, these can be machine washed and dried at low temperature I always recommend hand washing in mild temperatures and lay flat to dry. They will not shrink as it is acrylic yarn.
The is a perfect gift for that high school student going to college next year. Or for the sports fan in your family.
This is created in a smoke-free environment.
The headband/ear warmer, as well as the gloves, can be purchased separately. You will need to contact us at the address below to make that custom request.
The Head Band Only $12.00
Gloves Only $18.00
Set Save $5.00 $25.00

This set can be made in any color of your choice, however our favorite selections are of the leading NBA, NFL, MBL and NCAA teams . We would be happy to make this in any colors of your choice, contact us with your custom request: info@pjcraftsworld.com
Reviews