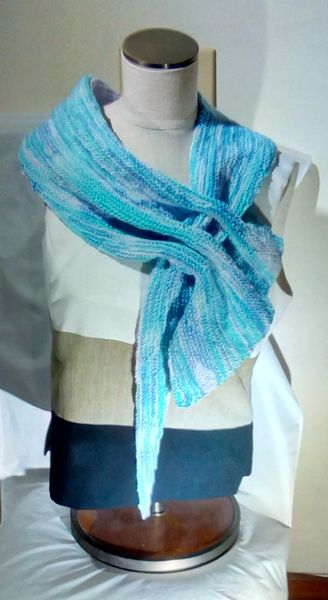 Caterpillar Scarf
Caterpillar Scarf ( Pfeilraupe Scarf)
This is not the typical scarf that anyone's Aunt or Grandmother can or will make. It is an asymmetric knit slot scarf design. I fell in love with the scarf (Pfeilraupe Scarf: Caterpillar scarf) the first time I saw it It's so versatile and variable to wear with different outfit styles.

This is a triangle shaped scarf with six slots to pull the narrow end through. It is so unique that everyone will love it. Due to the way the narrow end pulls through the slots it can be made shorter or longer. It has a lovely lay around the neck without binding.

This is one scarf that will make the lady in your life feel special be it wife, mother, grandmother, sister or girlfriend.

This scarf is ready for immediate shipment.

Reviews