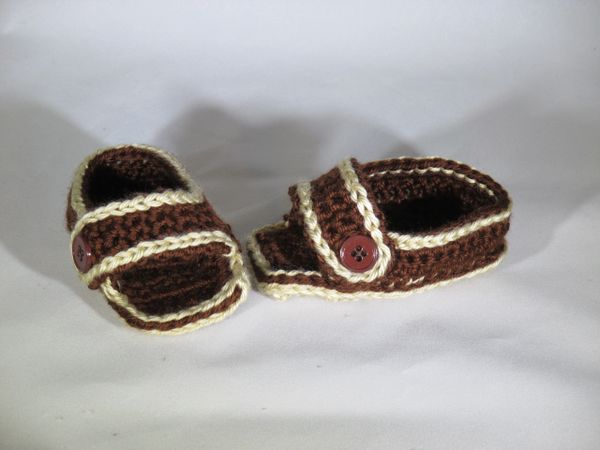 Baby Sandal Booties
For the baby who has everything. These are cute baby sandals just like Moms or Dads. They are made with 100% acrylic fibers; therefore they are machine washable at low temperatures and will not shrink. They are perfect for babies because the material is soft and the environment where made is free of tobacco and animals.

While, currently I have in stock Brown/Tan (as shown), Blue/Orange (Florida Gator or Chicago Bears colors) and Maroon/Beige (Florida Seminole colors); however, they can be made in any color you wish.

Also, they can be made from newborn to toddler (currently in stock newborn). Please keep in mind that it takes about 3 additional days when creating a custom order. Therefore instead of shipping in 1-3 days they will ship in 4-6 days.

When requesting a customer order I will need not only the colors your prefer but the size of the baby's foot. If the baby is not available to measure the foot the following information generally holds true.

Newborn (7-9 lbs.) = 3.25" - 3.75 " or 9-10 cm
3-6 months = 4" - 4.5" or 10-12 cm
6-12 months = 4.25" - 4.75" or 12-13 cm
18 months - 2 years = 4.5" - 5.5" or 13-14 cm

Also, if this is for a baby who is standing or learning to walk a non-skid bottom can be put on the sandal for a nominal fee.

Reviews